Welcome to a new listening lesson for practice. This time, you will listen to several examples of sentences related to clothing and the weather in Spanish, in addition to practicing with two very interesting listening activities accompanied by interactive tests. Let's start …
Vocabulary Introduction: Clothing and seasons in Spanish
Before heading to the listening activities, take a look at the key vocabulary for both winter and summer clothes in Spanish.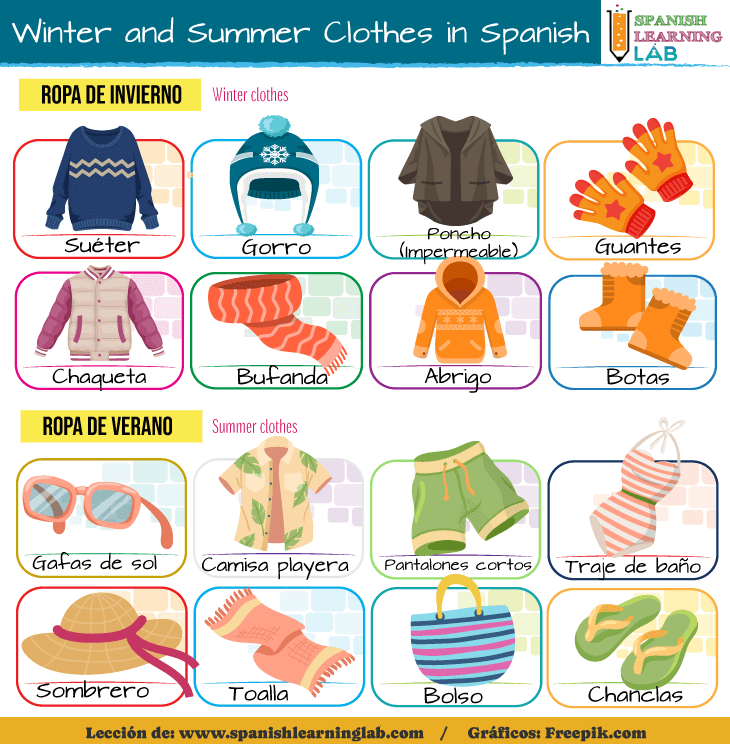 Next, please pay attention to the following examples of sentences using the vocabulary related to clothing and the weather in Spanish so that you become familiar with the words, phrases and grammatical structures that will be used in the listening exercises.
Me gusta el verano, aunque hace mucho calor y los árboles lucen secos.
I like the summer, although it is very hot and the trees look dry.
Normalmente uso ropa cálida en el invierno como guantes, abrigo, gorro y botas.
I usually wear warm clothing in the winter like gloves, a coat, a hat and boots.
Lo que me gusta del verano es que puedo usar ropa ligera como shorts, camisolas, sandalias y camisetas.
What I like about summer is that I can wear light clothes such as shorts, tank tops, sandals and T-shirts.
Lo que no me gusta del invierno es que es difícil salir de casa y es peligroso conducir el auto si ha nevado.
What I don't like about winter is that it is difficult to go out and it is dangerous to drive the car if it has snowed.
Mi estación favorita es la primavera. Ver las flores en los parques y poder disfrutar de un clima moderado es genial.
My favorite season is spring. Seeing the flowers in the parks and being able to enjoy a mild weather is great.
La ropa que usamos habla de nuestra personalidad y estilo de vida.
The clothing we wear speaks about our personality and lifestyle.
Cada generación ha marcado una tendencia distinta en la industria de la moda.
Each generation has set a different trend in the fashion industry.
La ropa es esencial para protegernos del frío, los rayos solares y mucho más.
Clothing is essential to protect us from the cold, sunlight and much more.
En muchos países, las personas cambian su vestuario en cada temporada.
In many countries, people change their wardrobe every season.
La industria de la moda genera ganancias millonarias alrededor del mundo.
The fashion industry generates millionaire profits around the world.
Listening Activity No. 1: Identifying the station, clothing, and person
Listen to three people describing their surroundings and the clothes they are wearing. Then, solve the exercises in the interactive listening test. Good luck!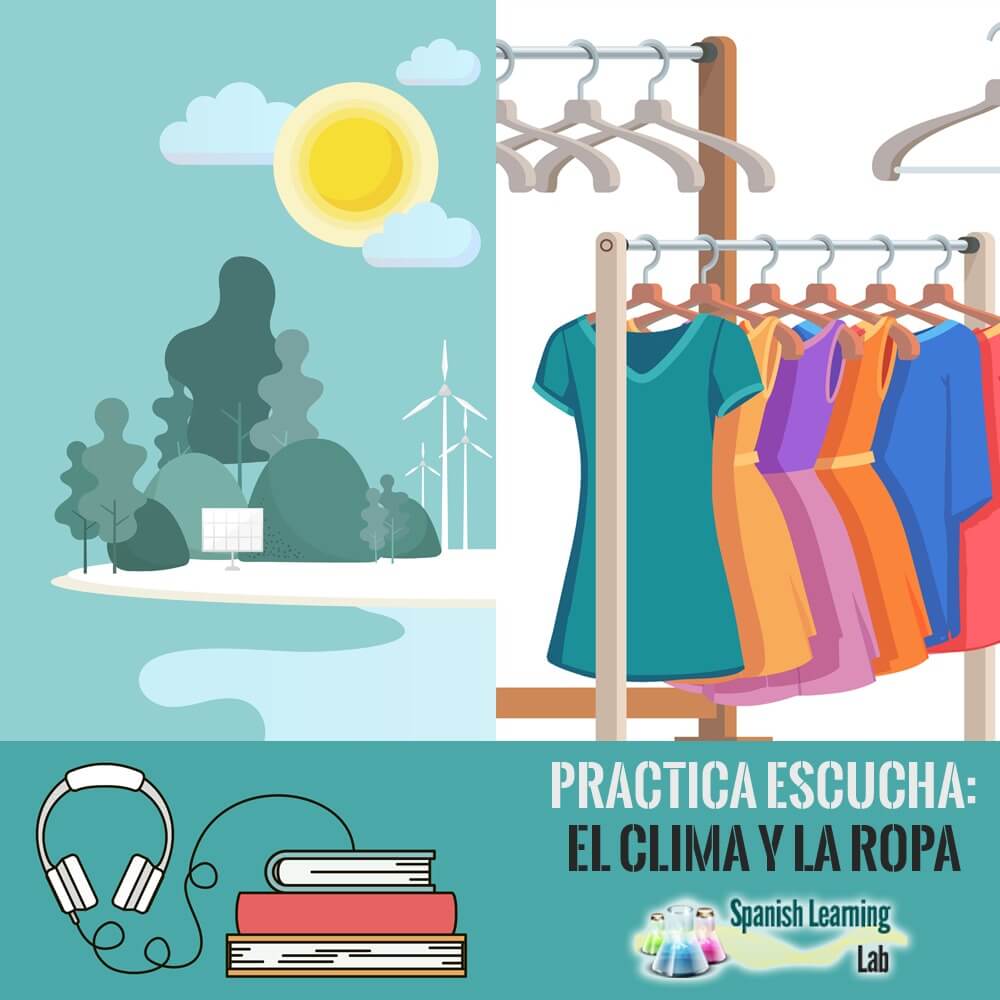 Listening Activity No. 2: Clothing and the weather in Spanish
Listen to a short essay on the clothes we wear and their functionality, plus the effects of the fashion industry on the environment. Then solve the interactive quiz about it.
We got to the end of this lesson aimed at helping you practice listening in Spanish. We hope you learned new words about clothing and the weather, and above all, that you can improve your ability to understand the language. See you soon!
Related Spanish Worksheets: