In the past two lessons, we covered the vocabulary for clothing items and prices as well as some common adjectives to describe them. This lesson will teach you some basic phrases and questions you can use when shopping for clothes in Spanish, plus some ways to say what you are wearing in Spanish too. This time, we will see all these things in use through sample conversations in Spanish at a shop and other places. You will be able to practice with two interesting listening activities and quizzes.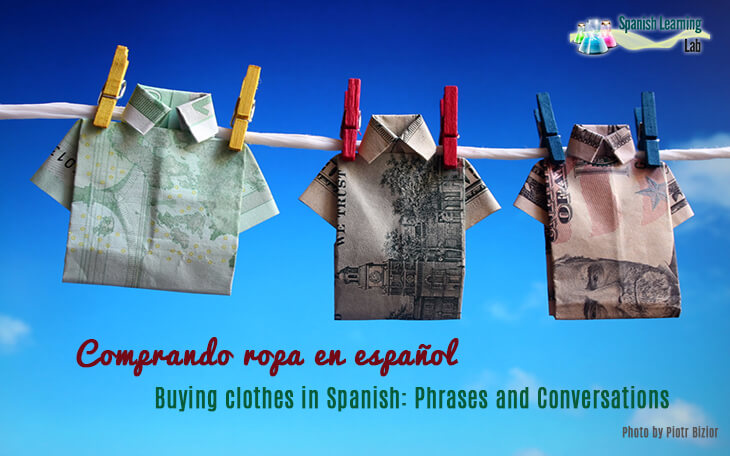 Vocabulary review: Clothing in Spanish, prices and descriptions
Let's start the lesson by reviewing the vocabulary for clothing in Spanish with a nice video inlcuding several pictures and some important notes. The video will review how to make simple sentences to describe clothes with adjectives, talk about clothing styles and patterns, the basic use of the verb USAR (to wear), how to ask for prices and more. You can activate the subtitles (cc) below if you need them.
Shopping for clothes in Spanish and saying what you are wearing
Describing clothes in Spanish at a shop
First, to describe clothes in Spanish, you can use the verbs LUCIR (to look) and SER (to be). We can use them following structure: [Prenda de vestir (clothing item) + SER/LUCIR + adjective in Spanish], for example: "Tu camisa es bonita". When shopping for clothes in Spanish, you can also use adjectives to say what you think about the items you are buying, for example: "La camisa está cara", "El pantalón está barato", etc.
It is also important that you know how to say clothing sizes and styles so you can say clearly what you are looking for, like in these two sentences which make use of the present progressive in Spanish: "Estoy buscando una falda de talla mediana" and "Estoy buscando un vestido floreado". Also, in order to ask for an opinion about clothes we may use the questions: ¿Qué opinas de esta + prenda de vestir? and ¿Cómo me queda esta + prenda de vestir?. Listen to the first sample conversation where someone is shopping for clothes in Spanish at a shop and find some of the phrases we have introduced so far.
Nely: Jorge, ¿te gusta mi vestido nuevo?
Jorge: Si. Te ves muy elegante. El vestido es muy bonito. Te queda bien
Nely: Gracias. Me gusta el color de este vestido. Compré unos aretes y unos zapatos de tacón para usarlo
Jorge: Esos zapatos son bastante altos ¿te sientes cómoda?
Nely: Claro. Es muy fácil caminar con ellos.
Jorge: Mi novia prefiere los zapatos bajos… Creo que a ella no le gustan los zapatos de tacón, pero te quedan muy bien…
Read translation: The clothes I like in Spanishl
Nely: Jorge, do you like my new dress?
Jorge: Yes. You look very elegant. The dress is very pretty. Looks good
Nely: Thank you. I like the color of this dress. I bought some earrings and high-heeled shoes to wear it.
Jorge: Those shoes are pretty high. Do you feel comfortable?
Nely: Sure. It´s easy to walk with them.
Jorge: My girlfriend prefers flat shoes … I think she does not like high heels, but they fit you well…

Jorge: ¡Hola! ¿Tiene ropa para niños?
Vendedora: Si, pase por favor. Tenemos pantalones, camisetas, shorts, ropa interior, calcetines… ¿Qué está buscando?
Jorge: Bueno, quiero comprar un pantalón azul y una camiseta blanca… también quiero una gorra y una chaqueta de color negro
Vendedora: ¿Qué talla?
Jorge: Creo que talla pequeña. Es para un niño de 8 años…
Vendedora: Entiendo… veamos, estos le quedarán bien entonces
Jorge: uhmm sí, creo que si… no me gusta mucho la gorra ¿tiene en otros estilos?
Vendedora: Si aquí están
Jorge: Excelente. Entonces me llevo todo esto. ¿Cuánto es en total?
Vendedora: Son 39 euros señor
Jorge: Muy bien. Gracias
Read translation: Shopping for clothes in Spanish
Jorge: Hello! Do you have clothing for children?
Saleswoman: Yes, please come in. We have pants, shirts, shorts, underwear, socks … What are you looking for?
Jorge: Well, I want to buy a pair of blue pants and a white shirt … I also want a cap and a black jacket
Saleswoman: What size?
Jorge: I think small size It is for an 8 year old boy …
Saleswoman: I get it … let's see, these will fit him well then
Jorge: uhmm yeah, I think so … I do not like the hat. Do you have other styles?
Saleswoman: Yes, here they are _
Jorge: Excellent Then I'll take all this. How much in total?
Saleswoman: It is 39 euros Sir
Jorge: All right. thanks

Asking for prices and trying on clothes in Spanish
In order to ask for prices of clothing items in Spanish, you can use the information questions ¿Cuánto vale/cuesta + prenda de vestir? For saying prices, we generally use the verbs COSTAR and VALER in their conjugations CUESTA and VALE, for example: "Cuesta 10 dólares" or "Vale 10 euros". It is important to use words to describe the clothes you want such as "sencilla"(plain), "de puntos"(dotted) or any other to point out the specific item to buy.
In addition, when buying clothes in Spanish, you can ask if you can try on some clothes by saying "¿Puedo medirme este/estos + prenda de vestir?" and say which things you are buying with "Me llevaré esto/estas". The key verbs here are MEDIRSE/PROBARSE (try on) and LLEVAR (to take).
Nely: ¡Buenas tardes! Estoy buscando una falda de puntos y una blusa sencilla de color blanco.
Vendedor: Claro que si señorita. Tenemos varios estilos de faldas. Hay faldas floreadas, de puntos y cuadriculadas también…
Nely: La verdad es que prefiero las faldas de puntos ¿Cuánto vale la falda celeste y cuánto cuesta la rosada?
Vendedor: La falda celeste vale 25 dólares y la rosada cuesta 32 dólares. La rosada es un poco más cara pero la tela es mejor.
Nely: Entiendo ¿Puedo medirme la falda rosada y esta blusa también?
Vendedor: Si claro. Aquí está el probador…
Nely: Vaya, se ven bien… Me llevaré estas dos ¿Cuánto es en total?
Vendedor: Son 32 dólares por la falda y 15 por la blusa… en total, 47 dólares
Nely: Está bien. Aquí tiene. ¡Gracias!
Read translation: Trying on clothes
Nely: Good afternoon! I am looking for a polka dot skirt and a plain, white blouse.
Seller: Sure Miss. We have several styles of skirts. There floral, plaid and polka dots skirts too…
Nely: I actually prefer polka dots skirts. How much are the blue and the pink skirts?
Seller: The blue skirt is $ 25 pink and the pink one costs $ 32. The pink is a bit more expensive but the fabric is better.
Nely: I understand Can I try on the pink skirt and this blouse too?
Seller: Yes of course. Here is the dressing room…
Nely: Wow, it looks good … I'll take these two How much is it in total?
Seller: It is $ 32 for the skirt and$15 for the blouse .. $ 47 in total
Nely: Okay. Here you are. Thank you!

Saying what you are wearing in Spanish
Finally, the verb USAR will be used to talk about what you are wearing in Spanish. USAR means both to wear and to use in the language and can be used like this: [Subject + ESTAR + USAR (gerundio) + prenda de vestir]. ESTAR plus a verb in gerund is used for actions in progress or happening at the moment of speaking. ESTAR will change its conjugation depending of the subject of the sentence, but USAR will keep its gerund form (USANDO) for any subject. Here are two examples: "Yo estoy usando una camiseta" and "Ella está usando un vestido". Listen to a last sample conversation about the clothing items someone is wearing in Spanish.
Nely: Hola Jorge. Mira, estoy usando el abrigo que me regalaste… Combina bien con este vestido.
Jorge: Nely, vaya… te ves muy guapa. ¿Cómo me veo yo?
Nely: Muy elegante con tu camisa a cuadros, tu pantalón de vestir y ese sombrero… te ves divertido
Jorge: Gracias… la verdad es que quería vestir casual. Vine a la fiesta con mi novia, pero no la veo
Nely: ¿Qué está usando ella?
Jorge: Ella está usando una falda verde, una blusa blanca y algunos accesorios en el cabello….
Nely: uhmm… mira, ahí está
Jorge: Es cierto. Te dejo entonces. ¡Que disfrutes la fiesta!
Read translation: What clothes are you wearing?
Nely: Hi Jorge Look, I'm using the coat you gave me… It goes well with this dress.
Jorge: Nelly, wow… you look so pretty. How do I look?
Nely: Very elegant with your plaid shirt, your pants and that hat … you look funny
Jorge: Thanks … the truth is I wanted to dress casual I came to the party with my girlfriend, but I do not see her
Nely: What is she wearing?
Jorge: She is wearing a green skirt, a white blouse and some hair accessories….
Nely: uhmm… look, she's there
Jorge: That's right I'll leave then.Enjoy the party!

Listening Activity No.1: Buying clothes in Spanish – Comprando ropa
Listen to a conversation at a shop about someone who is shopping for clothes in Spanish. You will listen to some of the phrases introduced in the sample conversations above. Takes notes of the important information and then solve the listening comprehension quiz.
Key expressions in the conversation:
¿Puedo ayudarle en algo? means May I help you?
¡Solo llevaré esto! means I will just take this!
Listening Quiz: Buying clothes in Spanish at a shop
It's time to test your listening ability. Listen to the conversation and find out what clothing items the costumer buys and the prices they discuss. You will get an interesting explanation every time you find a correct answer.
Congratulations - you have completed Listening Quiz: Buying clothes in Spanish at a shop.You scored %%SCORE%% out of %%TOTAL%%.We recommend you to %%RATING%%

Your answers are highlighted below.
Conversation script: Shopping for clothes in Spanish
Vendedora: Disculpe ¿Puedo ayudarle en algo?
Comprador: Si, estoy buscando un regalo para mi esposa, algo que ella pueda usar…
Vendedora: Tenemos vestidos muy bonitos como este…
Comprador: Ya veo. ¿Cuánto vale este vestido?
Vendedora: Este vestido vale 50 dólares.
Comprador: aja… Creo que es un poco caro y no me gusta mucho el color. ¿Cuánto cuestan estas blusas y esas faldas?
Vendedora: Las blusas cuestan 20 dólares y las faldas 25.
Comprador: La blusa y la falda me gustan más, y creo que combinan con sus zapatos.
Vendedora: Entonces a ella le va a encantar. También vendemos ropa para caballeros como trajes, camisas, camisetas y corbatas.
Comprador: Gracias, pero creo que solo llevaré estas dos cosas.

Listening activity No.2: "What are you wearing?" in Spanish
Listen to another conversation between two friends in party describing the clothes they are wearing in Spanish with different types of adjectives and saying prices in Spanish too. Click on PLAY to listen to the conversation and then solve the interactive quiz about it.
Key expressions and questions:
1. Te ves muy guapa means "You look very beautiful"
2. ¿Crees que luzco bien? means "Do I look good?"
3. Te queda bien ese atuendo means "You look good on that outfit"
Listening quiz: What are you wearing? in Spanish
It is time to test your listening ability again based on what you hear in the conversation about clothes. Listen again and then choose the right answer for each question. You can check the conversation script below once you finish the quiz to confirm you answers.
Congratulations - you have completed Listening quiz: What are you wearing? in Spanish.You scored %%SCORE%% out of %%TOTAL%%.Your performance has been rated as %%RATING%%

Your answers are highlighted below.
Conversation script: What are you wearing in Spanish
Jorge: Hola Nely ¡Te ves muy guapa hoy!
Nely: Gracias. Compré esta falda de puntos ayer junto con esta blusa, un par de zapatos de tacón y unos aretes… ¿Crees que luzco bien?
Jorge: Luces bonita. La ropa te queda muy bien ¿Cuánto vale todo eso?
Nely: Bueno, la falda vale 32 dólares, la blusa vale 14, los zapatos valen 50 dólares y los aretes 7 dólares…
Jorge: Vaya, gastaste bastante dinero comprando ropa…
Nely: Si, es que hoy es mi cumpleaños entonces quería comprar algo de ropa nueva…
Jorge: ¿En serio? Se me olvidó… la próxima vez te compraré algo de regalo
Nely: No te preocupes ¿Con quién viniste a la fiesta Jorge?
Jorge: Vine con mi novia pero no la veo…
Nely: ¿Qué está usando ella?
Jorge: Está usando un vestido floreado, una banda en el pelo, una pulsera verde y unas sandalias… algo casual
Nely: Tú también andas casual. Me gusta tu camiseta celeste y el sombrero también… Mira, ¿no es ella tu novia?
Jorge: Si, es ella. Te dejo entonces. Te queda bien ese atuendo… seguro que hoy consigues novio
Nely: ¡Gracias! Seguro hoy si

Related Spanish Worksheets: