In this lesson, we will introduce the names of some popular drinks in Spanish, but more than a list of words, we will show you examples of things that native speakers say when talking about different types of drinks. As usual, we will relate the content of this lesson to some other essential topics, and more importantly, we will practice with two Spanish listening activities. Let's start…
Vocabulary: A list of popular drinks in Spanish
In most Latin American countries, we generally use the word "BEBIDAS" to refer to drinks in Spanish. There are many types of drinks in each country, but there are some that you can find anywhere, such as "café" (coffee) or "Té" (tea). Those beverages are the ones we have included in the picture below, and we plan to expand the list later.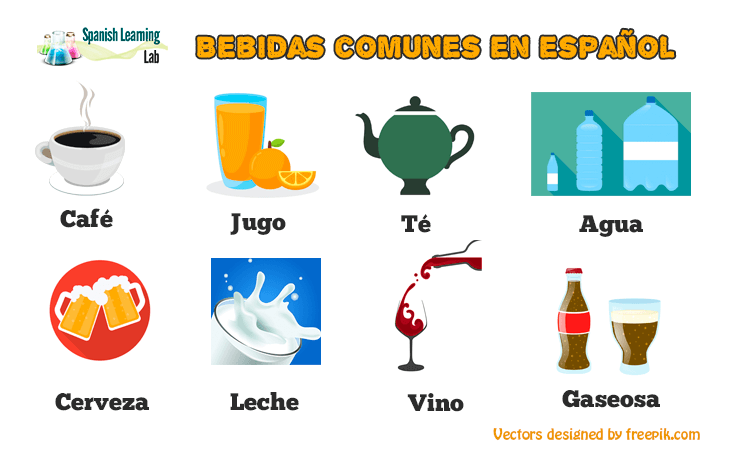 About the specific names of some drinks in Spanish
Just like in English, we have a variety of beverages with their own specific names, some of which are not even in Spanish. Here are a few of them:
Café: "café negro", "café descafeinado", "capuchino", "café con leche", etc.
Jugo: "limonada", "jugo de papaya", "jugo de melón", "jugo de naranja", "jugo de piña", etc.
Té: "té negro", "té verde", "té rojo", "té de manzanilla", "té de Jamaica", etc.
Soda: "Rojita", "Fanta", "Pepsi", etc.
It would certainly be impossible to cover all the beverages in a single lesson, so we will learn more about each type of drink in Spanish providing more context and perhaps more listening practice. Keep in mind that the beverages presented before are probably the ones that you will hear more often in day-to-day conversations. Most of the time, the names of drinks in Spanish are made out of a main noun (a fruit, herb or anything else) plus a preposition like "DE" (to say what it is made of) or "CON" (to indicate the additional ingredient), e.g. "Café con leche" or "té de limón".
Common phrases and questions about drinks in Spanish
Some of the most popular phrases about drinks in Spanish are things about likes and dislikes, and perhaps preferences, for example:
"¡Me gusta el café!" (I like coffee)
"¡Que rico!" (So delicious)
"¡Quiero tomar algo!" (I want to drink something)
"¡Si tomo!" (Yes, I drink)
"No tomo" (I don´t drink)
"Prefiero el vino" (I prefer wine)
Regarding questions, it would great to know how to treat others to drink something in Spanish or ask if they like a specific type of drink. To do so, you can use:
"¿Te gusta la gaseosa?" (Do you like soda?)
"¿Te gustaría tomar café?" (Would you like to drink coffee?)
¿Quieres tomar café? (Do you want to drink coffee?)
Listening to questions and expressions about drinks in Spanish
These expressions and questions are really important. Some of them like "¡Que rico!" could be used when talking about food too. With that said, it is time to learn with more examples. Listen to the pronunciation of the names of common drinks in Spanish and notice how they are used in questions and phrases. These examples will be the basis for both listening activities. The grammar structure for these examples include ways to ask or say what you would like in Spanish, how to say what you like or dislike and basic requests in the language. If you want to learn more about each related topic, please click on the links to each lesson.
Café – ¿Quieres tomar una taza de café?
Coffee – Do you want to have a cup of coffee?
Gaseosa – ¿Le gustaría tomar gaseosa o té?
Soda – Would you like to drink soda or tea?
Té – Me gusta mucho el té verde de Taiwán.
Tea – I really like green tea from Taiwan.
Agua Mineral – ¿Me puede vender una botella de agua mineral por favor?
Mineral Water – Can you sell me a bottle of mineral water please?
Vino – Tomemos una copa de vino antes de la cena.
Wine – Let's have a glass of wine before dinner.
Leche – Necesito comprar un litro de leche.
Milk – I need to buy a liter of milk.
Cerveza – ¿Cuánto valen las cervezas? – Las cervezas valen 3 dólares.
Beer – How much are the beers? – Beers are $ 3.
Jugo – ¿Qué prefieres, el jugo de manzana o el jugo de naranja?
Juice – What do you prefer, apple juice or orange juice?
Vodka – El vodka es una bebida alcohólica.
Vodka – Vodka is an alcoholic beverage.
Ron – Me regalaron una botella de ron.
Rum – They gave me a bottle of rum.
Listening Activity No. 1: Describing and identifying drinks in Spanish
Listen to someone describing different types of drinks in Spanish. Which drink is he talking about? Listen and then solve the exercises in the interactive quiz. ¡Buena suerte!
Listening Activity No. 2: Talking about drinks in Spanish
It's time for the main listening activity in this lesson. If you get how the examples we presented work, then the conversation won't be hard to understand. Take notes of the drinks in Spanish they are talking about, as well as any other information you consider important to solve the quiz.
Key expressions in the conversation:
"Tan extraño"/ "Qué extraño" mean "So weird!"
"Pues mira, aquí tengo…" mean "Well… look, here I have…"
"¿Por qué preguntas?" means "Why do you ask?"
Related Spanish Worksheet: