Hola and welcome again! In our previous lesson, we covered the most common vocabulary for rooms and parts of the house, "habitaciones y partes de la casa", as well as how to use the verbs HABER, TENER and ESTAR. In this lesson, we will learn more about how to use SER with common adjectives to make grammatically correct sentences and paragraphs to describe a house in Spanish and the rooms or areas it has. Apart from reviewing the verbs and vocabulary for this topic, we will also talk a little about likes and dislikes, this time applied to the things we like or dislike about the house in Spanish. Let's begin…
Vocabulary review: The House in Spanish – La casa
First of all, we will review the vocabulary related to rooms and parts of the house in Spanish by looking at the picture below. Below each picture, there is a simple description using SER with adjectives (the words in magenta), apart from other important verbs we will study in the lesson. Generally speaking, people will use SER with adjectives to describe things or people, e.g. BONITO (beautiful) and DE TEJAS (made with tiles). The examples in the picture also make use of other verbs that are very useful when talking about the house in Spanish like HABER, TENER and ESTAR.
How to Describe a House in Spanish: SER with adjectives
Common Spanish adjectives for the house
Let's start by learning some basic adjectives to describe a house in Spanish and the rooms in it. We could use many different words, but propably the ones that fit better for house descriptions in Spanish are these adjectives: GRANDE (big), PEQUEÑO (small), ANGOSTO (narrow), CÓMODO (comfortable), INCÓMODO (uncomfortable), ESPACIOSO (spacious), NUEVO (new), VIEJO (old), MODERNO (modern), CARO (expensive), BARATO (cheap), FRESCO (fresh), CALIENTE (hot) y HELADO (cold).
One of the main differences when compared to English adjectives is that Spanish adjectives will be placed after the noun we are describing, not before in most cases. For example, to describe a big house in Spanish, we could say "Yo tengo una casa grande" (I have a big house) not "Yo tengo una grande casa". In this sentence, the word GRANDE is the main adjective describing the house in Spanish.
Using SER for descriptions
One of the simplest way to describe things, particularly for describing a house in Spanish is by using the verb SER (a form of "to be") and the grammatical structures:
Subject + verb + adjective e.g. La casa es hermosa.
Pronoun + verb + noun + adjective e.g. Esta es una casa hermosa.
SER is an irregular verb so it will be used as "ES" for a single object like CUARTO (room) and "SON" when referring to several objects like CUARTOS. Some sentences using SER with adjectives are: "La casa es pequeña" (the house is small) and "La sala es cómoda" (the living room is comfortable). Another way to describe the house in Spanish is with the verb LUCIR (to look). LUCIR will be conjugated as LUCE for a single object and LUCEN for several as in the sentence "La casa luce pequeña" (the house looks small).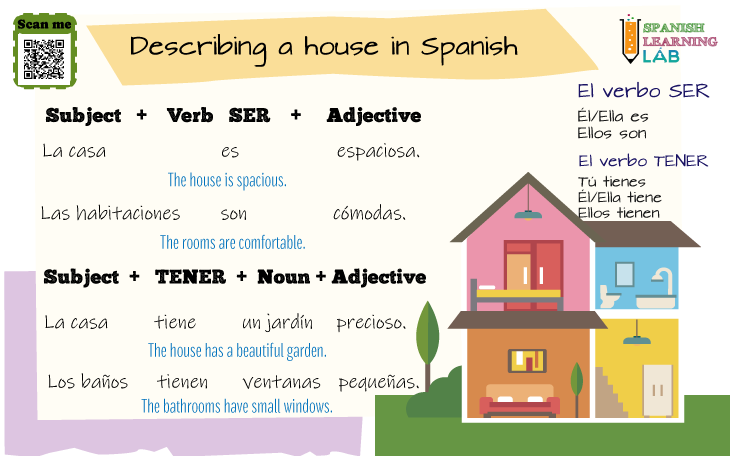 It is important to mention that in a regular house description in Spanish, we will also find the verbs HAY and TENER to talk about the things in a room and the verb ESTAR plus prepositions of place to indicate the location of rooms and parts of the house.
Examples of House Descriptions in Spanish – Descripciones de casas
It is time to see how all these things work together in real descriptions. Pay attention to how the vocabulary for the house in Spanish, besides all the things we have discussed, can be used in meaningful sentences. Some of the sentences in these paragraphs will be using "Me gusta + an object" to say what someone likes and "No me gusta + an object" for the opposite.
Example No. 1: Describiendo mi casa
Yo tengo una casa pequeña. Hay cuatro cuartos, una sala, una cocina y cuatro baños. Los baños son pequeños. La sala es espaciosa. La sala tiene un televisor grande y muchos objetos más. La cocina luce pequeña pero en realidad es grande. La cocina está junto a la sala. Cada cuarto tiene baño y una ventana. Hay un pasillo pero es angosto. Me gustan la sala y la cocina de la casa.
Example No. 2: Casa en venta
Vendemos una casa. Tiene 6 habitaciones en el primer piso y 6 habitaciones en el segundo. Tiene garaje y sótano. Hay un jardín en frente. La casa tiene varias ventanas, es cómoda, espaciosa y fresca. Los baños, el techo, las paredes y todas las partes de la casa están en buen estado. La sala tiene una chimenea para que la casa se caliente durante el invierno. La casa luce antigua pero está muy bien cuidada. Hay suficiente espacio para construir aún más. Es bonita y ubicada en un lugar seguro.
Listening Activity: Talking about the house in Spanish
Listen to a conversation between a realtor and a woman trying to buy a house. Find out where the rooms are located and listen to how they describe the house in Spanish. Take notes of the most important details and then solve the interactive quiz later.
Key expressions in the conversation:
"¿Qué le/te parece?" means "What do you think about it?"
"¡Eso me gusta!" means "I like that!"
Extra Practice: Describing the houses in Latin America in Spanish
Write a paragraph describing your house in Spanish and say what you like and dislike about it. Then compare your paragraph with the examples provided in this lesson. Thanks for joining us.
Related Spanish Worksheets: