¡Hola! Thanks for joining us again. This time, we are sharing a nice worksheet with reading exercises based on the vocabulary for family relationships in Spanish, that is family members, their appearance, the things they like and how we relate to them.
Directions:
Students could work individually or in pairs to solve the exercises on this worksheet.
In order to solve the exercises in this worksheet, students must read the passage about Carlos's family. First, they should reflect about the two questions on top of the worksheet. Then, they will read about Carlos' relationship with other members of his family in Spanish, who they are, what they do, their hobbies, among other things. For exercise No. 1, they must scan the text and answer the questions that are provided. For exercise No. 2, they must read the statements and mark them as "Verdadero" (True) or "Falso" (Falso) based on what is stated in the reading. It's important to reflect on the use of skimming and scanning for this type of exercise.
Worksheet information:
Level: Pre-Intermediate
Skill: Reading
Related lessons: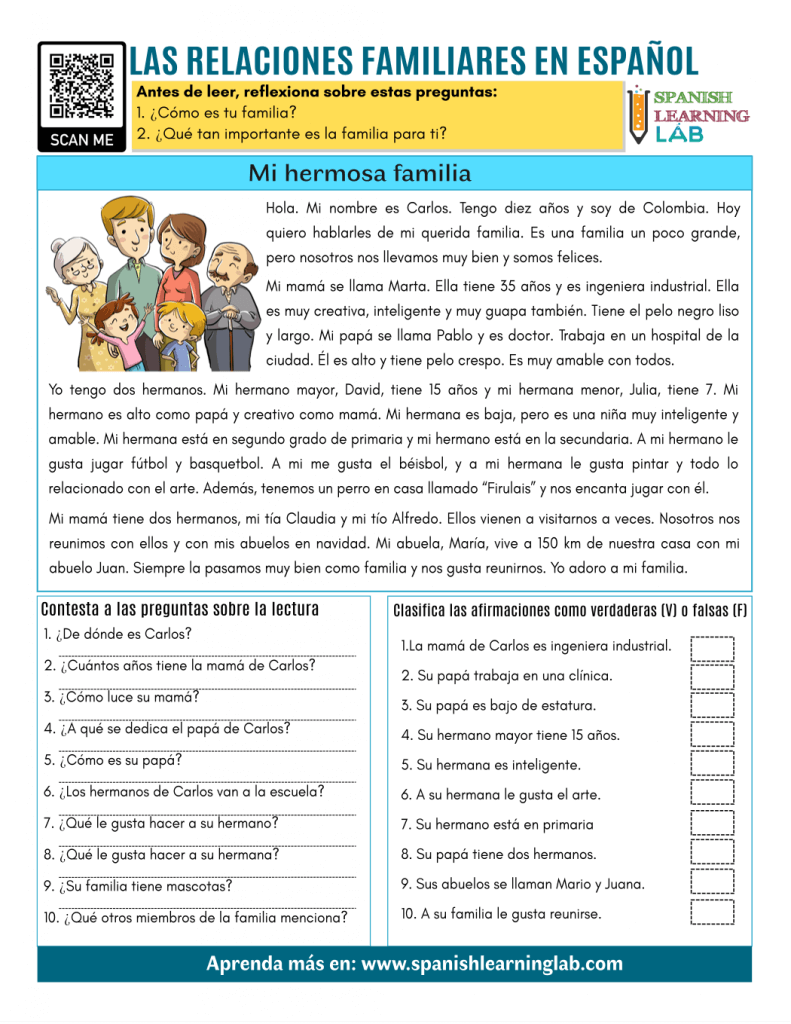 Extra Activity:
Students work in groups of four or five to make a family tree based on the reading and present all the family relationships in Spanish that are part of the passage with their own words. They could add details like age, job and other things to the chart so that they can have extra sentences and make up for a more complete presentation.