¡Hola! Perhaps you have been studying Spanish for some time now and you are wondering if you can really solve basic listening exercises in Spanish by yourself too. In this lesson, we would like you to take a couple of minutes to test yourself with some recordings and exercises for Spanish listening practice for beginners. Let's start…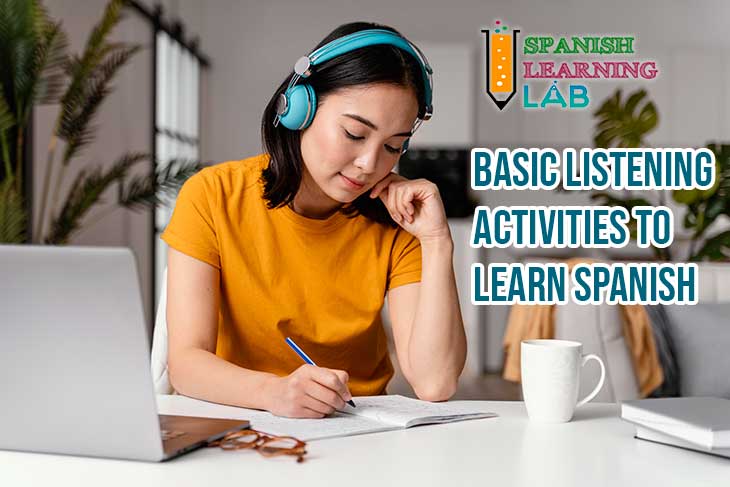 Listening Activity No. 1: Spanish greetings, introductions and farewells
The first activity for Spanish listening practice will test if you are able to introduce yourself in Spanish, use common greetings and say goodbye with simple phrases. Getting a grade over 70 points would mean that you do understand these topics at a basic level. Otherwise, check the related Spanish lessons to reinforce your weak areas on the topics. Make sure to check the conversation script once you have solved the listening exercises.
Listening Activity No.2: Spanish classroom objects, ESTAR and location
The second Spanish listening practice activity will test your knowledge of the vocabulary for classroom object, prepositions of place and colors, as well as how to use ESTAR to talk about the location of objects. These topics are extremely useful and you will need this knowledge for more intermediate and advanced lessons. Listen to a short conversation and then solve the listening exercises included in the quiz.
Listening Activity No. 3: Asking basic questions and sharing personal information in Spanish
The third listening activity will test if you can share some personal information in Spanish and also if you can actually understand basic conversations in Spanish including things like age, work, family and more. Listen to the recording and then solve the exercises in the quiz for Spanish listening practice. ¡Buena suerte!
Listening Activity No. 4: Describing things and people in Spanish
The last Spanish listening practice activity for beginners will test if you can use some basic verbs and adjectives to describe things like rooms and parts of the house, and describe people as well. The exercises in the quiz will not be hard to solve. Click on play when you are ready.
Closing remarks and advice on Spanish listening practice
Last but not least, if you really understood the previous listening activities (and even more if you found them easy) and got good grades on the quizzes, then we would say that you can understand basic Spanish and therefore are able to solve basic Spanish listening exercises. This also means that you should consider practice speaking in the language with other people.
In order to continue improving your listening ability, we recommend you to listen to music in Spanish, listen to the news and find lessons on topics of your interest. Being able to listen to basic Spanish and understand a little will open the doors for real communication. Keep on practicing and solving listening exercises. It will certainly help you learn new phrases, questions and more. We hope you found the recordings and quizzes useful to practice Spanish listening. Make sure to check more lessons in our site to continue improving this skill too. ¡Hasta pronto!
Related Spanish worksheets: