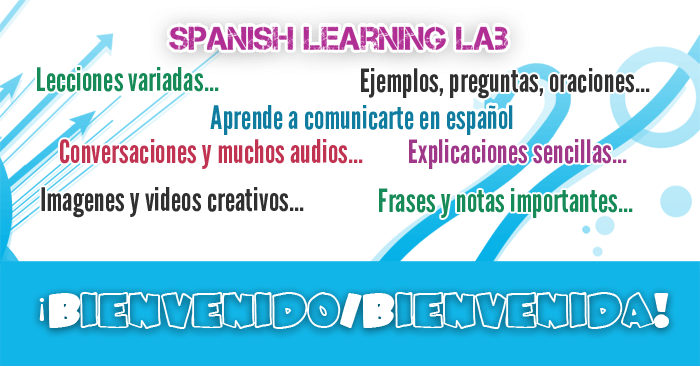 ¡Bienvenido/Bienvenida to Spanish learning Lab! This website was created as a tool for Spanish students who wish to improve their skills in the language and be an active part in the Spanish learning process. We provide free lessons for basic topics in the language to help you communicate effectively and well, we try our best to make sure every lesson contains simple explanations, lots of examples as well as informative images, videos and interactive quizzes, so that you feel like this is a lab for Spanish learning with multiple resources available. This site contains grammar lessons, vocabulary and more importantly a lot of podcasts to practice Spanish listening at all levels. Please check the main categories for lessons below or in the top menu. Again, welcome and enjoy learning Spanish – "Disfruta aprender español".
Basic Spanish I
The lessons in this category are aimed for students who are just starting to learn the language. Some of them are about introductions, greetings and the basic grammar rules like how to use subject pronouns, Spanish nouns and other parts of speech. The lessons follow a specific order we recomment for Spanish learning purposes so you acquire all the skills needed in the level. Most of them have interactive quizzes with nice tips, so making mistakes is an integral part of the process.

Basic Spanish II
This section includes a few grammar lessons like Spanish reflexive verbs and pronouns, possessive adjectives and special conjugations of verbs in the present tense such as stem changing verbs. Others will cover topics such as how to write and ask questions, describe houses and people and many other things.

Basic Spanish III
This section includes lessons that will make use of everything taught in Basic Spanish I and Basic Spanish II. The lessons are planned to be easy to understand and they include many examples using the key grammar and vocabulary from other lessons as well as videos from our Youtube Channel to make the Spanish learning experience even richer.