¡Hola! Welcome to a new lesson. Today, we will cover the basic vocabulary for domestic animals and pets in Spanish. These words will be presented through pictures and audio examples. The examples provided will later be used in two interesting listening activities with interactive quizzes. Let's start…

Vocabulary introduction: Pets and domestic animals in Spanish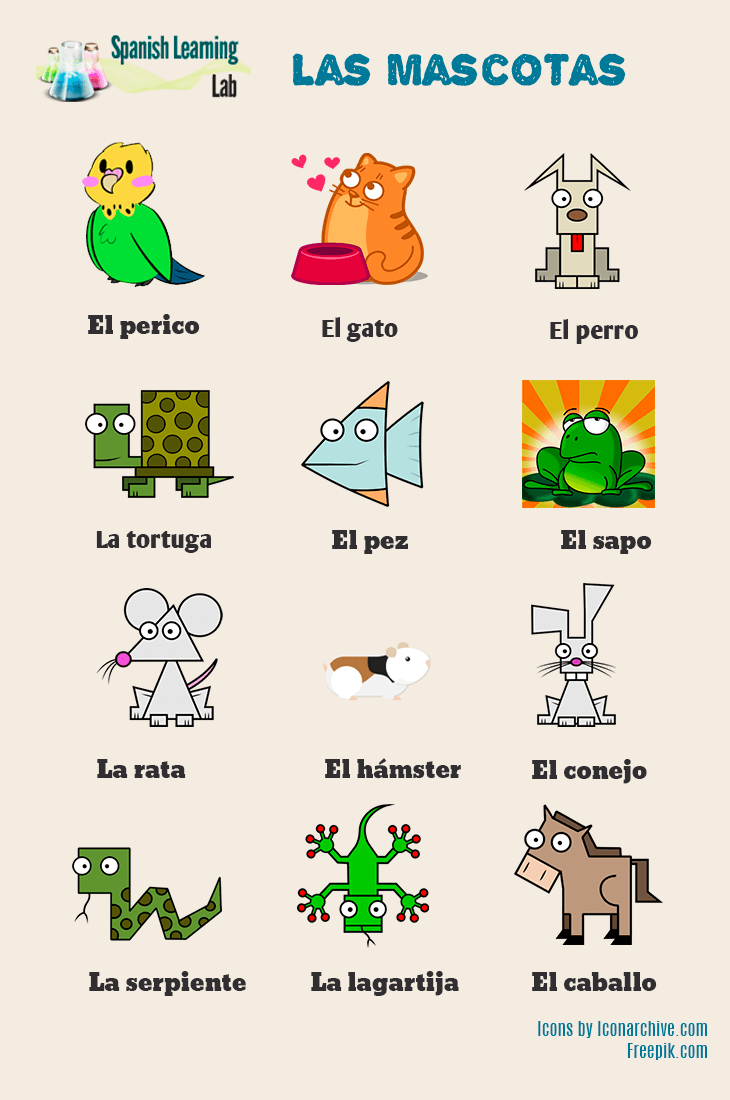 First, we will introduce part of the vocabulary related to domestic animals and pets in Spanish. We took into account those animals that people often have in their houses. Please leave us a comment if you would like to know how to say or pronounce your favorite pet, in case we did not add it.
Sentences about pets in Spanish
Below, there is a list of sentences related to these animals. Most of the sentences are thing you would hear people say about pets in Spanish. To fully understand the examples, it is important to know a little about adjectives and how to talk about likes and dislikes in Spanish. The examples will serve as a basis for the listening activities in this lesson.
El perico – El perico es muy parlanchín. Habla todo el día.
The parakeet – The parakeet is very talkative. He talks all day.
El gato – Tu gato es muy cariñoso y divertido.
The cat – Your cat is very affectionate and funny.
El perro – Mi mascota favorita es el perro.
The dog – My favorite pet is the dog.
La tortuga – Oye, mira qué bonita esa tortuguita.
The turtle – Hey, look how pretty that little turtle is.
El pez – Tengo una pecera con 3 peces. Son fáciles de cuidar.
Fish – I have a fish tank with 3 fish. They are easy to take care of.
El sapo – No me gustan los sapos
Toad – I do not Like Toads
La rata – Una rata sería la mascota perfecta para ti.
The Rat – A rat would be the perfect pet for you.
El hámster – Mira, ese hámster está muy gordito.
The hamster – Look, that hamster is very chubby.
El conejo – Hay muchos conejos en la tienda de mascotas
The Rabbit – There are many rabbits in the pet store
La serpiente – Debes alimentar la serpiente hoy.
The Snake – You must feed the snake today.
La lagartija – ¿Crees que tengan lagartijas en la tienda?
The lizard – Do you think they have lizards in the store?
El caballo – Los caballos son muy rápidos.
The horse – Horses are very fast.
Listening Activity No. 1: Talking about your favorite pets in Spanish
Listen to Mark talking about his favorite pets in Spanish. Pay attention to the animals he mentions and write down as much information as you can. Then, try to solve the quiz below. ¡Buena suerte!
Listening Activity No. 2: Getting a new pet in Spanish
It's time for the main listening activity. Now, you will listen to two friends talking about pets in Spanish. Listen and then solve the interactive quiz about the content of the conversation.
Key phrases in the conversation:
"No estoy segura" means "I´m not sure"
"Me gustan/ No me gustan" means "I like / I don't like"
"No tengo tiempo para cuidarlas" means "I don't have time to take care of them"
Extra Practice: Spanish alphabet worksheet
Before you leave, we have created a worksheet for your to practice the alphabet in Spanish along with the vocabulary for farm animals and pets. Please follow the link and practice on your on.
Related Spanish Worksheets: