¡Hola! Thanks for using our resources. This time, we are sharing a great PDF worksheet to practice the grammar structures and vocabulary for likes and preferences in Spanish. This material includes a set of conversation cards with specific questions about this topic to practice speaking Spanish with your friends or classmates.
Directions:
Students form groups of four to participate in this speaking activity.
Each group of students gets a copy of the PDF worksheet. First, they must cut out the conversations cards, which include 16 conversation cards with questions on likes and preferences in Spanish, things such as: the food and music people like, what they like about other people, pastimes they like and more. Students must form a deck with the conversation cards, shuffle it and take turns to draw a card at a time, and then give a 30-seconds reply including real or make-believe information on what they like or dislike. Otherwise, the card must be returned to the deck. They should answer just in Spanish, making a relatively good use of the vocabulary for pastimes, personality and other related topics. The student who follows these rules and holds the most cards by the end of the game wins.
Spanish worksheet information:
Level: Intermediate
Skill: Speaking
Related Lessons: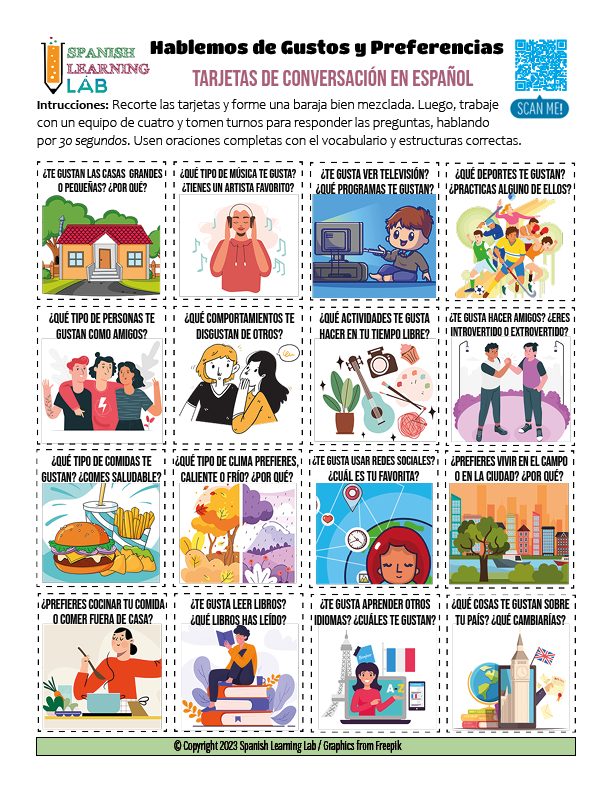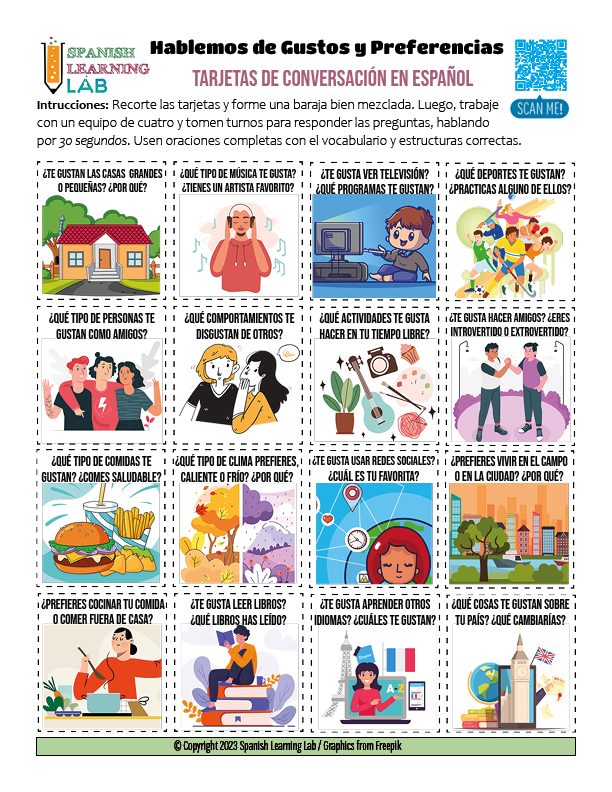 Spanish Class activity: ¿Te gusta…?
In this speaking activity, students find out about a partner's likes and dislikes. First, they choose a partner and then brainstorm 5 questions that they would like to ask that person. In pairs, students take turns to ask their partner their "¿Te gusta…?" questions from the prompts on the worksheet or their own questions. Students also ask follow-up questions and make notes on their partner's answers. Finally, students tell the class about their partner's likes and preferences in Spanish, e.g. "A Mario le gusta hacer ejercicio todos los días, no le gusta comer pizza y prefiere leer libros que jugar videojuegos". Once they finish sharing, the teacher should provide some feedback on grammar, pronunciation and vocabulary use before and after each short presentation.