Welcome to a new lesson on listening practice. This time, we will focus on expressions and questions you will need for making transactions at the bank in Spanish. You will listen to examples and practice with two interesting listening exercises and interactive quizzes. Let's start…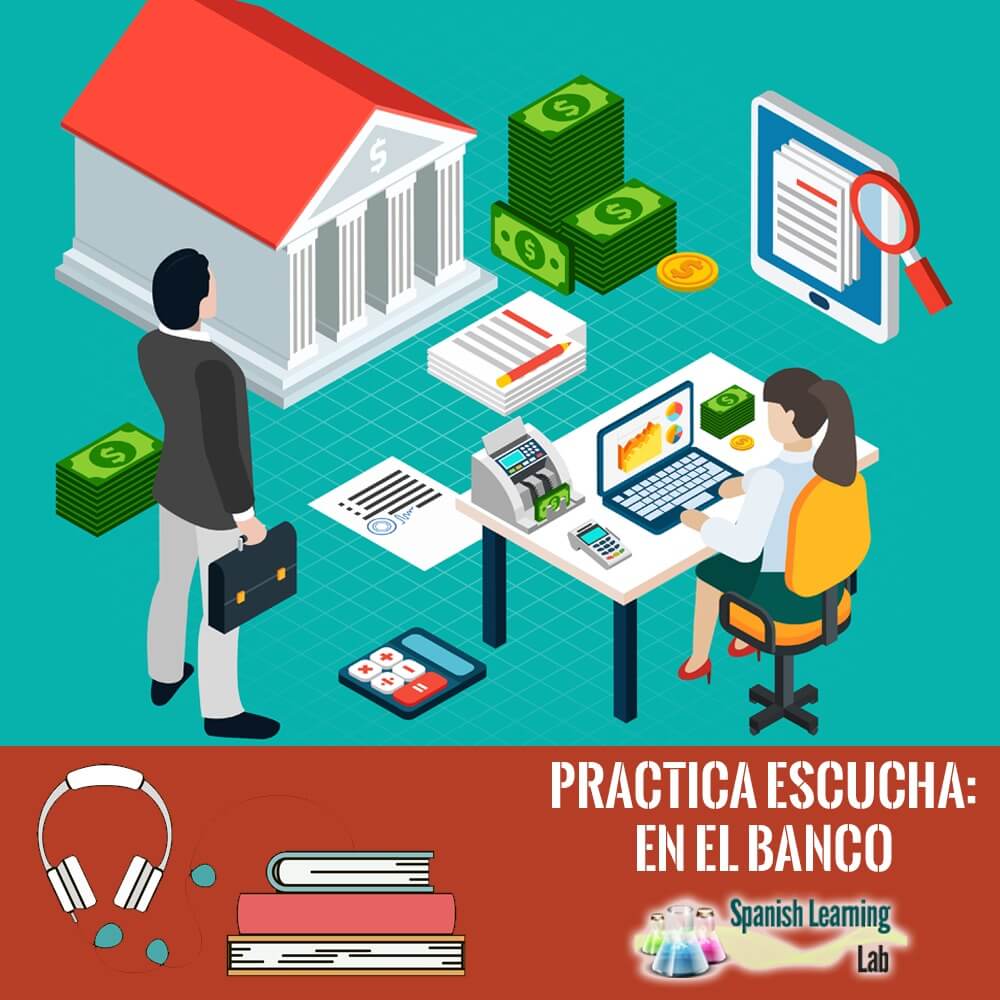 Vocabulary in Context: Bank transactions in Spanish
First, listen to a set of examples of sentences and questions with the key vocabulary you need to know to make transactions at the bank in Spanish. You will hear this vocabulary again in the listening exercises in this lesson, so please take some time to fully understand them.
Necesitamos un documento de identidad como su cédula, licencia o pasaporte.
We need an identity document such as your ID, license or passport.
¿Tiene un documento que muestre su dirección exacta?
Do you have a document that shows your exact address?
Buenas tardes, me gustaría abrir una cuenta bancaria. ¿Cuáles son los requisitos?
Good afternoon, I would like to open a bank account. What are the requirements?
Para abrir una nueva cuenta, debe proveer una copia de su identificación, dos cartas de recomendación y realizar un depósito de $200.
To open a new account, you must provide a copy of your ID, two recommendation letters, and make a $ 200 deposit.
Buenos días. Necesito su ayuda para retirar dinero de mi cuenta.
Good Morning. I need your help to withdraw money from my account.
¿Cuáles son los requisitos para hacer un préstamo?
What are the requirements to make a loan?
Los clientes pueden depositar o retirar efectivo en los bancos. También pueden cambiar cheques.
Customers can deposit or withdraw cash at banks. They can also cash checks.
¿Estaría interesado en obtener una tarjeta de crédito?
Would you be interested in obtaining a credit card?
He estado ahorrando dinero en mi cuenta por más de cinco años. El banco ofrece buenos intereses.
I have been saving money in my account for over five years. The bank offers good interests.
Disculpa ¿Sábes dónde está el cajero automático? – Si, está a dos cuadras al norte, dentro del supermercado.
Excuse me, do you know where the ATM is? – Yes, it's two blocks north, inside the supermarket.
Usted puede revisar el balance de su cuenta y transferencias en nuestras sucursales.
You can check your account balance and transfers at our branches.
Los clientes pueden usar la aplicación móvil para hacer pagos de servicios, transferencias y abrir cuentas.
Customers can use our mobile app to make service payments, transfers, and open accounts.
Listening Activity No. 1: Identifying bank transactions in Spanish
Listen to three short conversations about bank transactions in Spanish. Make sure to identify what the transaction is and the requirements, as well as the outcome. Then solve the interactive quiz about them.
Listening Activity No. 2: At the bank in Spanish
Listen to a conversation between a customer and a customer service agent at the bank in Spanish. Take notes of the most relevant information and then solve the exercises in the interactive quiz.
This is the end of the lesson. Please keep practicing by yourself and, if you have already solved the quizzes, check the scripts for both listening activities to review the expressions or questions that could be useful for you to hold conversations like these ones at the bank in Spanish. Until next time!