Welcome to a new lesson to practice listening. On this occasion, you will be able to hear many examples of sentences related to time zones, ways to adapt to life in other countries, circadian rhythm and much more. In addition, the lesson includes two very interesting conversations accompanied by interactive tests. Let's start …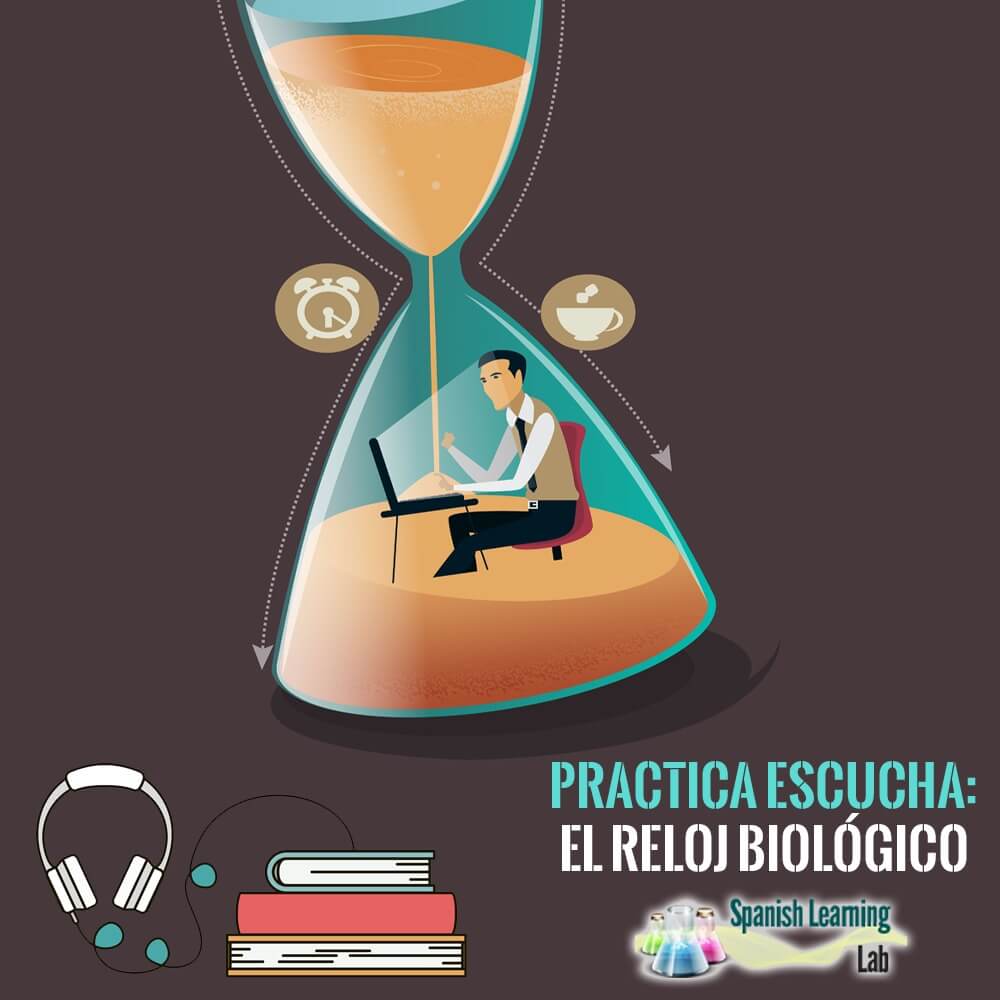 Vocabulary in context: Talking about our biological clock
Listen to the following examples of sentences in Spanish using some of the key phrases and vocabulary that will be part of the listening exercises in this practical lesson on circadian rhythm. Please analyze each example carefully.
Al vivir en otro país, debes adaptarte a la zona horaria y una cultura diferente.
When living in another country, you must adapt to the time zone and a different culture.
Los seres humanos tenemos un reloj biológico que controla cómo nos sentimos durante el día.
Human beings have a biological clock that controls how we feel during the day.
Si no duermes lo suficiente, te sentirás cansado o con somnolencia durante el día.
If you don't get enough sleep, you will feel tired or drowsy during the day.
Si te desvelas muy seguido, tu reloj biológico se puede descontrolar.
If you wake up too often, your biological clock may get out of control.
Muchas personas envían mensajes, cartas y postales para estar en contacto con sus familiares en el extranjero.
Many people send messages, letters and postcards to stay in touch with their relatives abroad.
¿Sabías que los ritmos circadianos están presentes en todo el mundo viviente, desde los hongos hasta los humanos?
Did you know that circadian rhythms are present throughout the living world, from fungi to humans?
Nuestro cuerpo tiene más energía en ciertas horas del día.
Our body has more energy at certain times of the day.
Los trastornos de sueño están muy relacionados a nuestro reloj biológico.
Sleep disorders are closely related to our biological clock.
Hay muchos factores que pueden afectar nuestro ritmo circadiano.
There are many factors that can affect our circadian rhythm.
Las hojas de algunas plantas se abren y se cierran en la oscuridad, siguiendo sus propios ritmos circadianos, en lugar del dictado por el sol.
The leaves of some plants open and close in the dark, following their own circadian rhythms, rather than that dictated by the Sun.
Listening Activity No. 1: Friends across continents
Listen to a phone conversation in Spanish between two friends who live in different countries and take note of the most important things. Then, solve the interactive quiz about it. Good luck.
Listening Activity No. 2 : Our Circadian Rhythm
Listen to an interview with a doctor related to our biological clock in Spanish. Pay attention to details and then answer the questions in the interactive quiz about it.