¡Hola! Welcome to another lesson. Today, we will learn how to use sequence words in Spanish to tell stories, talk about past events and more. We have prepared several examples for you to see these words in use, as well as a listening activity and an interactive quiz to practice. Let's start…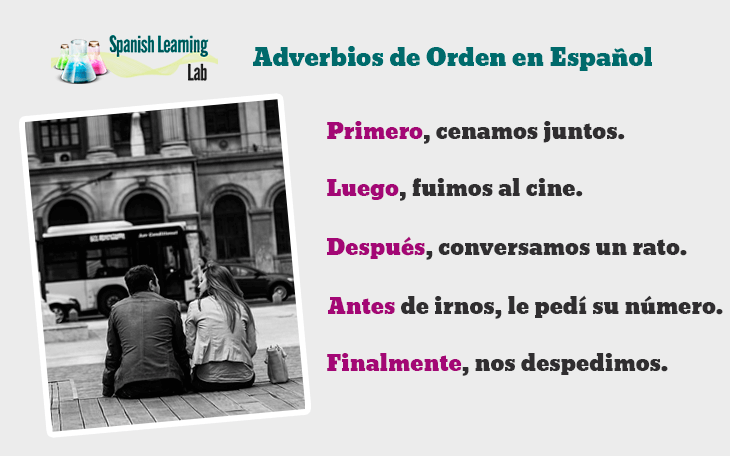 Vocabulary Introduction: Common Sequence Words in Spanish
Just like in English, we often use adverbs in Spanish to complete sentences by adding information about time, order, place and so on. Sequence words in Spanish are called "Adverbios de orden", that is words that tell us the order of events and help us connect a story in a logical manner. Below, there is a list of common sequence words and phrases in Spanish. Pay attention to their pronunciation and how they are used in basic sentences.
Antes – Hagamos la tarea antes de dormirnos.
Before – Let's do the homework before going to bed.
Anteriormente – Anteriormente, ella había visitado a su abuela dos veces.
Previously – Previously, she had visited her grandmother twice.
Después – Después de ir al cine, podemos pasar por la tienda.
After – After going to the movies, we can stop by the store.
Posteriormente – Posteriormente, caminaron hacia el bosque.
Subsequently – Subsequently, they walked towards the forest.
Primero – Primero, permítame revisar su pasaporte.
First – First, let me check your passport.
En primer lugar – En primer lugar, hablemos de su salud.
First – First, let's talk about your health.
Primeramente – Primeramente, mil disculpas por llegar tarde.
Firstly – Firstly, my apologies for being late.
Segundo – Segundo, debemos cambiar nuestro logotipo.
Second – Second, we must change our logo.
Tercero – Tercero, deberíamos invertir más en este proyecto.
Third – Third, we should invest more in this project.
Luego – Podemos hablar de negocios luego.
Then – Then, we can talk about business.
Sucesivamente – Sucesivamente, el oso encontró la miel
Subsequently – The bear found the honey subsequently
Por último – Por último, el leñador salvó a la doncella.
Finally – Finally, the woodcutter saved the maid.
Finalmente – Finalmente, todos vivieron felices para siempre.
Finally – Finally, everyone lived happily ever after.
Al final – Al final, los tres cerditos aprendieron la lección.
In the end – In the end, the three little pigs learned their lesson.
Vocabulary in Context: Talking about the sequence of events in Spanish
In this section, we will see the sequence words in Spanish we introduced before as used in real situations. This type of words is particularly useful to tell stories, to talk about past events in Spanish, for giving instructions and also for sharing recipes with other people. With that said, we advise you to take a look at our lesson about the past tense of regular and irregular verbs in Spanish before you move on, in case you still have doubts about that topic. Listen to the examples and pay attention to the way they are used in each situation.
Example No. 1
Caperucita Roja era una niña muy inteligente. Antes de dormirse, leía libros de terror. Un día decidió caminar por el bosque. Primero, jugó con uso oso bebé. Luego, platicó con las aves. Después siguió caminando hasta llegar a una cabaña. Finalmente, en la cabaña encontró a su mejor amigo: "El lobo".
Example No. 2
Rubén Darío fue un escritor muy talentoso. Primeramente, aprendió a leer cuando tenía tres años. Segundo, leyó libros famosos como "Don Quijote" y "Las mil y una noches". Posteriormente se mudó a Chile. Luego, escribió "Azul". El libro "Azul" fue su mejor obra. Al final, Rubén Darío fue reconocido como uno de los mejores poetas de la lengua española.
Example No. 3
Hoy vamos a cocinar "Gallopinto". Primero, debes picar un pimentón y una cebolla en cuadritos pequeños. Luego, echas un poco de aceite en un sartén. Después, agregas el pimentón y la cebolla picada. Antes de que se terminen de freír, échale 10 cucharadas de frijoles rojos cocidos. Después, deja que los frijoles se frían un poco. Posteriormente, agrega 8 cucharadas de arroz cocido y una cucharadita de vinagre. Por último, mezcla todos los ingredientes por 5 minutos. Cuando todo esté bien mezclado, el "Gallopinto" estará listo.
Listening Practice: So tell me that story in Spanish
Listen to a friend telling a story in Spanish to another. The story includes several important sequence words in Spanish and phrases. Pay attention to the way the story unfolds, and then solve the exercises in the quiz. ¡Buena suerte!
Key phrases in the conversation:
"El chupacabras" – It is a legendary creature in the folklore of parts of the Americas.
"Me asusté" – I got scared.
"Me di cuenta que…" – I realized that
This is the end of the lesson. We hope you find this content interesting and useful to expand your vocabulary and enhance your listening ability. Make sure to practice by making your own short stories or recipes using sequence words in Spanish. Share them in the comments below if possible. This is definitely a topic that we will be covering more in future lessons, as these words are indeed very useful in everyday conversations. ¡Nos vemos pronto!