¡Hola! This time, we are sharing a great PDF worksheet to practice speaking with your friends and classmates. This material includes a group of key questions about in conversation cards that can be very useful to talk about health in Spanish. We hope you find this material very useful.
Directions:
Students form groups of four to participate in this speaking activity.
Each group of students gets a copy of the PDF worksheet. First, they must cut out the conversations cards, which include beautiful drawings and common questions about people's health in Spanish, things such as: how often they exercise, their diet, their opinion on stress and other health related issues. Students must form a deck with the conversation cards, shuffle it and take turns to draw a card at a time, and then give a 30-seconds reply adding as much useful information as possible. Otherwise, the card must be returned to the deck. They should answer just in Spanish, making a relatively good use of the vocabulary for illnesses in Spanish and other related topics. The student who follows these rules and holds the most cards by the end of the game wins.
Spanish worksheet information:
Level: Intermediate
Skill: Speaking
Related Lessons: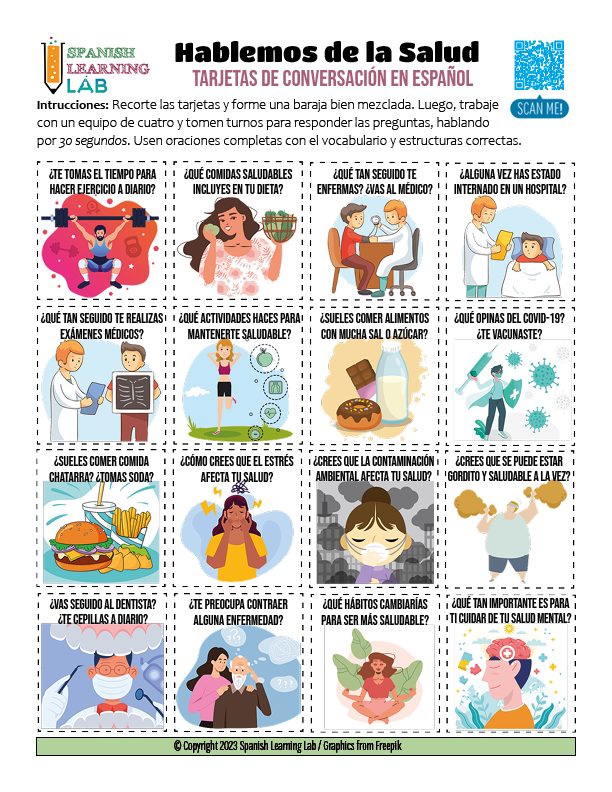 Class activity: A short presentation on healthy habits
In this speaking activity, students work in the same groups to prepare a short presentation in Spanish on specific habits people should have in order to have good health in the long term. They could divide the presentation in four different areas: diet, exercise, mental health and routine checkups. Students could get new pictures to make their points clear and should speak for 2 minutes (30 seconds per person). The teacher should provide some feedback on grammar, pronunciation and vocabulary use before and after each short presentation.