Hello again. Welcome to a new basic listening lesson. Today's lesson will include some examples of situations in which you would need to use colors in Spanish. We have covered the vocabulary for Spanish colors in two individual lessons before, as well as some key phrases and questions about this topic. Now, it is time to test your listening ability with some exercises. Let's start…
Sample conversations: Using Spanish Colors in real situations
We use Spanish colors for many purposes, from things like describing objects to describing the physical appearance of people such as their hair or eyes. That is why learning at least some basic colors is really important. When listening to the examples below, make sure to search for new vocabulary and expressions in the conversations too, and more importantly, pay attention to the way colors are used in the language.
Next, we will show you some examples of short conversations using colors in Spanish, as well as a short passage that we will read for you. Pay attention to the expressions and questions that we are using along with colors in the conversations, that is things like "¿De qué color?" (What color), "Combina con..." (It matches well with…), "Se ve bien…" (It looks good) and "¿Qué opinas?" (What do you think?). Once you are done exploring the examples, move on to the first listening activity.
Vendedor: ¿Puedo ayudarle en algo?
Cliente: Si, estoy buscando una camiseta talla M.
Vendedor: ¿De qué color?
Cliente: Puede ser Azul, Gris o Verde.
Vendedor: Bien, aquí tiene. Una camisa de color azul. También tenemos en rojo, amarillo y café.
Conversation script: Clothes colors in Spanish
Seller: Can I help you with something?
Customer: Yes, I'm looking for an M size shirt.
Seller: What color?
Customer: It could be Blue, Gray or Green.
Seller: Well, here it is. A blue shirt. We also have red, yellow and brown shirts too.

Chico: ¿Qué estás haciendo?
Chica: Estoy buscando colores para pintar la casa. Mira, me gusta el color azul marino de esta casa. ¿Qué opinas?
Chico: Está bonito. Combina con el color blanco. ¿Qué opinas de ese verde tierno? Se ve muy bien con el color gris.
Chica: Bueno, sino tendremos que pintar la casa en rojo. ¿Te parece?
Chico: No, no me gusta el rojo.
Conversation script: A house colors in Spanish
Boy: What are you doing?
Girl: I'm looking for colors to paint the house. Look, I like the sea blue color of this house. What do you think?
Boy: It's beautiful. It matches with the color white. What do you think of that tender green? It looks great with the gray color.
Girl: Well, we'll have to paint the house in red. Do you agree?
Boy: No, I don't. I do not like red.
Un arcoíris se forma cuando la luz del sol atraviesa gotas de agua. El arcoíris tiene siete colores. El rojo, el naranja, el amarillo, el verde , el celeste, el azul y el violeta. El color celeste puede convertirse en turquesa a veces. El arcoíris es un símbolo social y religioso muy importante.
Conversation script: The colors of the rainbow in Spanish
A rainbow is formed when sunlight shines through water droplets. Rainbows have seven colors. Red, orange, yellow, green, light blue, blue and violet. The light blue color can turn into turquoise sometimes. Rainbows are a very important social and religious symbol.
Listening Activity No. 1: What colors in Spanish does she like?
Listen to a short passage about a girl. Figure out who she is and pay attention to the way we use colors in Spanish to describe her and the things around her. Listen to the recording as many times as necessary, and then solve the exercises in the quiz below. ¡Buena suerte!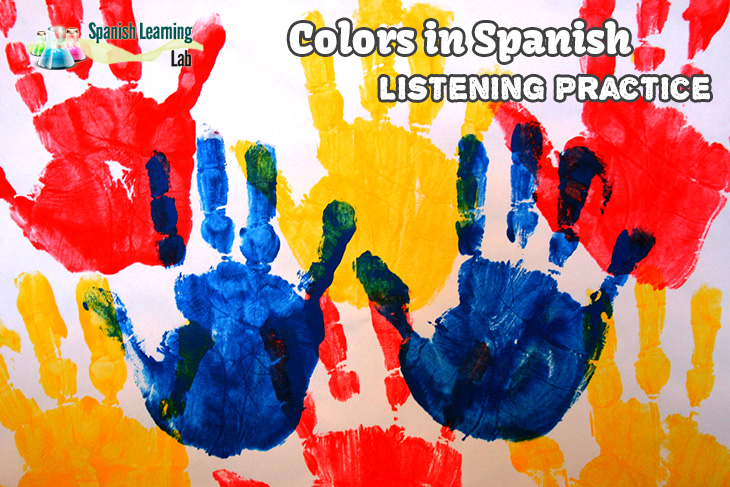 [WpProQuiz 75]
Audio script: A princess' favorite colors in Spanish
Rapunzel es una princesa que vive en una torre. Ella tiene pelo rubio muy, pero muy largo. Ella siempre viste un vestido morado con encaje blanco. La torre de Rapunzel es alta y con paredes grises. Las paredes de la torre tienen muchas plantas verdes. Su cúspide es morada. Rapunzel quiere un cambio. Quiere teñir su pelo en rojo o en un color más llamativo como el turquesa o el rosado.

Listening Activity No. 2: Painting a House in Spanish
It is time for the main listening activity. To understand this, you need to know some of the vocabulary for
rooms and parts of the house in Spanish
, which we covered in another lesson. Listen to two friends discussing about colors for painting a house in Spanish. Then solve the quiz about the conversation.
Key phrases in the conversation:
1. "¿En qué puedo ayudarle?" means "How can I help you?"
2. "¿Que color me recomienda para…?" means "What do you recommend me for…"
3. "Tono de celeste" means "Shade of light blue"
[WpProQuiz 76]
Conversation script: Painting a house in Spanish
Cliente: ¡Buenas tardes!
Vendedor: ¡Buenas tardes! ¿En qué puedo ayudarle?
Cliente: Bien, estoy buscando pintura para mi casa. ¿Qué colores tiene?
Vendedor: Tenemos muchos colores disponibles. Tenemos colores claros, oscuros, cálidos y mucho más.
Cliente: Bueno, creo que estoy buscando colores alegres porque la casa es muy aburrida. No me gusta el color gris, ni el color café.
Vendedor: Entiendo. Bueno, mire… Para pintar la cocina, le recomendamos el color verde tierno. Combina bien con el color crema y con el color blanco.
Cliente: Me gusta mucho el verde. ¿Que color me recomienda para la sala?
Vendedor: Le recomiendo este tono de celeste. No es muy oscuro, es algo brillante y da la sensación de calma.
Cliente: ummm… creo que no me gusta mucho. ¿Qué otro color puedo usar?
Vendedor: También puede usar el color verde en la sala. Sino un tono de gris o un color más vivo como el naranja o el rosado.
Cliente: Me gusta el color naranja. Luce cálido y más vivo que el color celeste.
Vendedor: Entonces, ¿Qué colores le vendemos para pintar su casa?
Cliente: Voy a llevar pintura de color verde para la cocina y naranja para la sala.

This is all for now. We hope that you got the best out of the examples and both listening activities and conversations about colors in Spanish. Keep practicing with more of our resources! ¡Hasta pronto!