¡Hola! This time, we are sharing a great PDF worksheet to practice speaking. This material consists of a series of questions in conversation cards that will be very useful to talk about sports in Spanish in a classroom or to practice with your friends anywhere else. We hope you find this very useful.
Directions:
Students form groups of four to participate in this speaking activity.
Each group of students gets a copy of the PDF worksheet. First, they must cut out the conversations cards, which include beautiful drawings and questions about some popular sports in Spanish, things such as: sports people like to practice, activities they are good at, famous sport events such as "El Mundial" (The World Cup) or their experiences in certain sports. Students must form a deck with the conversation cards, shuffle it and take turns to draw a card, and then answer the question on it. Each student must speak for at least 30 seconds, otherwise the card must be returned to the deck. They should also answer the question about sports with a relatively good use of the vocabulary for these outdoor activities and the correct grammar. The student who follows these rules and holds the most cards by the end of the game wins.
Spanish worksheet information:
Level: Intermediate
Skill: Speaking
Related Lessons: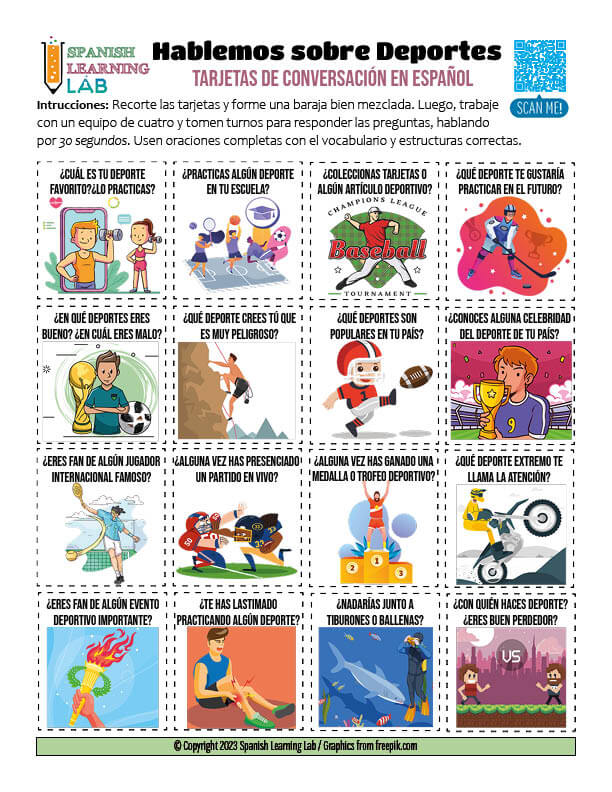 Find someone who…
In this speaking activity, each student picks 3 questions from the conversation cards in the PDF and then tries to find another student for each question who has the same or a similar answer. When a student finds someone alike, they write down the person's name and ask a follow-up question in Spanish about sports to gain more information, writing down a summary of the answer. The student then moves on to speak to another classmate. When everyone has finished, students make a short presentation on what they found out.