¡Hola! Welcome to a new lesson on listening practice. This time, we will focus on the activities children do in their free time and at school in Spanish, how they get ready to get there and basically how they talk about their day. We hope you can relate this content to the vocabulary on classroom objects, basic questions and more common vocabulary that is very useful in the language. Let's start then…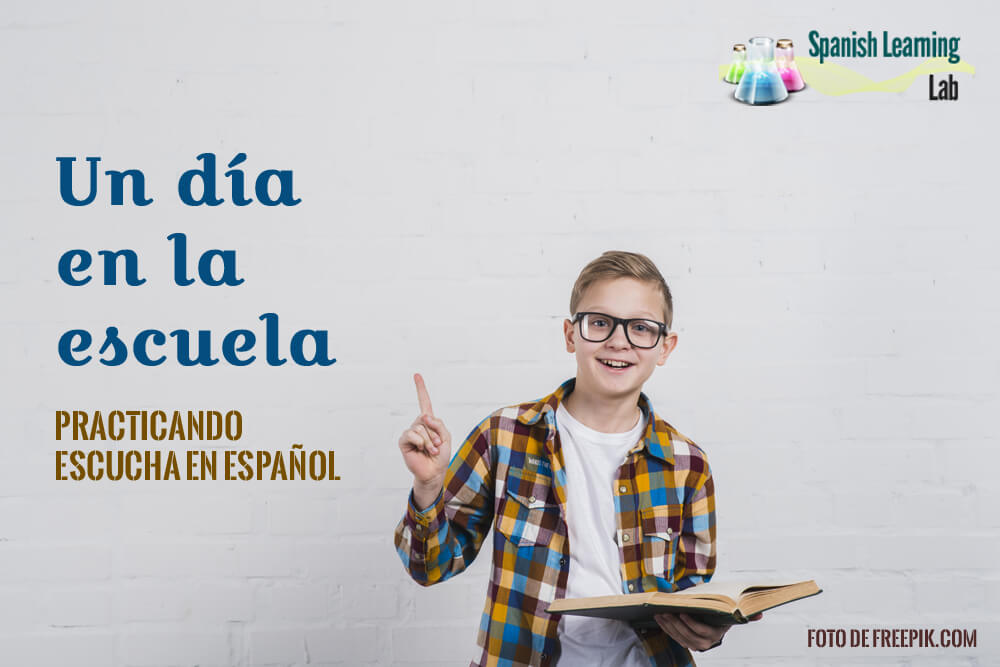 Listening to examples: Kids talking about their day in Spanish
First, please read and listen to a couple of descriptions with kids talking about their day in Spanish, the activities that they like to do in their free time and common things they do in school. Please pay attention to the phrases, vocabulary and grammar in these examples as they will be the basis for the main listening activity in this lesson.
Example No. 1
Hola. Mi nombre es María. Tengo 10 años y estoy en quinto grado de primaria. Mi mamá me lleva a la escuela a las 12:00 del medio día y me recoge a las 5 y media. Mi clase favorita es arte y manualidades porque me gusta dibujar y pintar. Mi color favorito es el azul marino. Lo que más me gusta de la escuela es pasar tiempo con mis amigos. Me llevo bien con la mayoría de mis compañeros, pero no con algunos cuantos. Ahorita estamos en vacaciones de julio. Tenemos 2 semanas libres así que aprovecho para ir clases de pintura y para visitar a mis abuelitos.
Example No. 2
Mi nombre es Marcos. Tengo 14 años. Yo estudio octavo grado de secundaria. Para ir a la escuela, me levanto a las 6 de la mañana, me baño, me visto, desayuno con mi familia y me voy a clases. Comienzo la escuela a las 7 de la mañana. Mi clase favorita es matemática porque me gusta aprender sobre aritmética, álgebra y geometría. Mis amigos dicen que soy un "nerd", pero no me importa. Yo confío en mis habilidades y trato de aprender cosas interesantes cada vez que voy a clases.
Main Listening Activity: Talking about School in Spanish
Listen to guy interviewing a little girl about her day at school in Spanish, the subjects she likes and other things about her day. Then, answer the questions in the quiz. ¡Buena suerte!
We got to the end of the lesson. Hopefully, you will be able to remember the phrases and questions in this lesson, and will make use of them to talk about your day at school in Spanish when needed. See you in our next lesson. Thanks for joining us.